Discussion Starter
·
#1
·
To make shooting a bit more comfortable i built myself a stand that holds bg, bore brush and darts. It's fully detachable and fits into a small sportsbag or rucksack easyly.
To keep things off the ground i attached some net-fabric between center-pole and two of the jibs.
The pipe-holder i made from an old plastic cup wich i cut to a ring. Then i attached dual-lock-tape to cup and tripod-handle to hold it in place while in use.
A washer-screen - glued to the top of the pod - makes the cupholder, wich is a PET-box for candy, with a magnet glued to the bottom.
Inside the cup i put a layer of sponge-rubber to protect the tips of the darts.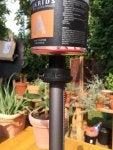 Folded it looks like this
The thing does a good job in my garden but maybe shows it's strength on uneven ground or in high grass, for the base can be lifted by pulling out the legs.
Questions, proposals and constructive criticism welcome!