First off, please let me give credit to '
BackyardBowyer
' from youtube for this method. Well done, and I really haven't changed
all that much from the way he shows it if any.
I find these so easy to make and they come out pretty uniform and perform well on my bamboo kabob skewers.
First off, you will need these items...
Duct tape, pen, scissors, piece of your diameter blowgun or the pipe itself.
Cut two rough squares of 2 1/2 inches.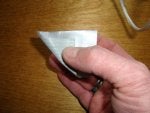 Next, you will need to fold the bottom edge as shown up leaving a bit to fold over and seal.
Fold over flap being careful to fold the entire length right to the cones tip.
This is what it should look like.
Ok, this is what I found to be a bit tricky and this photo and the next show you proper placement of the second
outer piece of tape. I found if I didn't hit the angle quite right I was left with a underside sticky seam showing
which of course you don't want. Don't get to worried about it as there is leeway, try to get as close as you can.
The underside view which may be a better show of how second piece needs to look.
Fold the little outer flap over first, as shown.
Now you want to begin rolling the outer layer over the inner. You don't want creases so go slow using your
index finger to complete.
Just about done...
Done.
Grab your piece of pipe, or blowgun now your ready to measure, cut and fine tune your cone.
Insert cone in and push gently.
Now your ready to run your pen, (ballpoint is good) around half of cone is sufficient.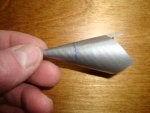 Pull it out and there it is.
Now your ready for the cut along the blue line.
There she be. Now you will probably see it's got a peak on one side of the cone, trim it flush.
Now, all that's needed is a bit of fine trimming to fit your bore and you should be off to locate
a dart and complete.
Hope you found it helpful. Cheers.
Turtle