Discussion Starter
·
#1
·
Hi,
I've received my 2 pc 5' Cold Steel and have removed the attached quiver and quiver protector, so as not to receive "undue attention". So, I had to fabricate a discreet quiver for the bamboo baddies. At first I made one out of 1 1/4" PVC tube with an end cap, but that limits one to carrying very few bamboodles.
So, I decided to nestle two empty containers, formerly housing disinfectant wipes, secure them together with camo duct tape, then camo paint them. Of course, one must remove the bottom of the top container ; )
I have about 15 bamboo-baddies (with their cones) sequestered and ready for action.
I will attempt to attach images, including my first few shots at a 2-D rabbit from 27'. He/she's 2-D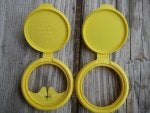 because I can't find the 3-D glasses from the movie theatre : (
From the lid, you'll need to cut away the center piece.
Enjoy!